Monday - Friday 9:30 AM - 6:00 PM
Saturday 9:00 AM - 5:00 PM
Access Hours
| Size | Unit Details | Price | |
| --- | --- | --- | --- |
| | PrimeMain Floor ClimateControl, Climate, Inside | | |
| | PrimeMain Floor ClimateControl, Climate, Inside | | |
| | Lockers Climate-cont, Climate, Inside | | |
| | 7th Floor Climate Control, Climate, Inside | | |
| | 5th Floor Climate Control, Climate, Inside | | |
| | 7th Floor Climate Control, Climate, Inside | | |
Storage Units in Denver, CO
What are you looking for in a self-storage unit in Denver, CO? How about convenience, affordability, and security in a storage center?
Stash Self Storage Near Me
- Grant offers everything you need to ensure you have a stress and hassle-free storage experience. When you store with us, you'll appreciate convenient indoor storage units, month-to-month rentals, 24-hour video surveillance, and online bill pay. 
Reserve a unit and make your monthly payments online! 
Check Out What Our Customers Are Saying
"
"
Erin Watkins
on 09/09/2020
Best Storage company I've ever worked with. Allison and staff (not sure gentleman's name) are absolutely wonderful. I was moving in a hurry and they helped make the process much less stressful. My belongs felt like they would be safe, facility is very clean. Also, when I realized I hadn't taken my key off the unit at end of lease, they worked with me and were very understanding. Where as other storage places wouldn't care and charge you anyway. Highly recommend if needing to store your belongings in the capital hill/ downtown area.
"
"
Chris Platson
on 08/31/2020
Was stuck between places needed somewhere to keep my thing until I could figure everything out Jeff was very helpful and accommodating to my crazy situation and schedule!! Good price, great location and Amazing staff!!
"
"
Glen Moreno
on 08/25/2020
More than happy with the location, convince, and more than anything the staff particularly Jeff I believe he is the manager but he was very helpful and i feel as though he went above and beyond.
Conveniently Located on North Grant Street
Stash Self Storage Near Me
- Grant is conveniently located on North Grant Street, close to Denver Health, History Colorado Center, Molly Brown House Museum, Denver Art Museum, Cheesman Park, and Denver Botanic Gardens. We're happy to serve our community and surrounding areas such as Capitol Hill, Central, Alamo Placita, and City Park West.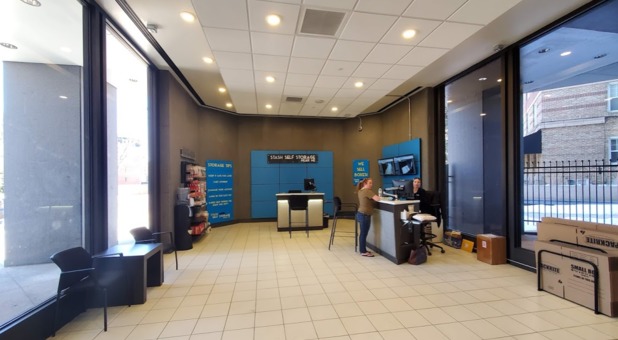 Head northwest toward Cleveland Pl

Turn right onto Cleveland Pl

Turn right onto N Broadway

Turn left onto E 14th Ave

Use the right 2 lanes to turn right onto Grant St

Turn left onto E 9th Ave

Turn left

Stash Self Storage Near Me

- Grant will be on the left
From Capitol Hill, Denver, CO:
Head west on E 11th Ave toward Pennsylvania St

Turn left onto Grant St

Turn left onto E 9th Ave

Turn left

Stash Self Storage Near Me

- Grant will be on the left 
From Central, Denver, CO:
Head east on E 6th Ave toward Speer Blvd

Turn left onto Logan St

Turn left onto E 9th Ave

Turn right

Stash Self Storage Near Me

- Grant will be on the left 
From City Park West, Denver, CO:
Head east toward N High St

Turn right onto N High St

Turn right onto E 13th Ave

Turn left onto Grant St

Turn left onto E 9th Ave

Turn left

Stash Self Storage Near Me

- Grant will be on the left 
Head northwest toward Cleveland Pl

Turn right onto Cleveland Pl

Turn right onto N Broadway

Turn left onto E 14th Ave

Use the right 2 lanes to turn right onto Grant St

Turn left onto E 9th Ave

Turn left

Stash Self Storage Near Me

- Grant will be on the left

From Capitol Hill, Denver, CO:

Head west on E 11th Ave toward Pennsylvania St

Turn left onto Grant St

Turn left onto E 9th Ave

Turn left

Stash Self Storage Near Me

- Grant will be on the left 

From Central, Denver, CO:

Head east on E 6th Ave toward Speer Blvd

Turn left onto Logan St

Turn left onto E 9th Ave

Turn right

Stash Self Storage Near Me

- Grant will be on the left 

From City Park West, Denver, CO:

Head east toward N High St

Turn right onto N High St

Turn right onto E 13th Ave

Turn left onto Grant St

Turn left onto E 9th Ave

Turn left

Stash Self Storage Near Me

- Grant will be on the left