Monday - Friday 9:30 AM - 6:00 PM
Saturday 9:00 AM - 5:00 PM
Access Hours
| Size | Unit Details | Price | |
| --- | --- | --- | --- |
| | Main Floor Premium, Climate, Inside | | |
| | Main Floor Premium, Climate, Inside | | |
| | Main Floor Premium, Climate, Inside | | |
| | Lockers Climate-cont, Climate, Inside | | |
| | Main Floor Premium, Climate, Inside | | |
| | Main Floor Premium, Climate, Inside | | |
| | Main Floor Premium, Climate, Inside | | |
| | Lockers Climate-cont, Climate, Inside | | |
| | Main Floor Premium, Climate, Inside | | |
| | Lower Level Climate Control, Climate, Inside | | |
| | Upper Level Climate Control, Climate, Inside | | |
| | Upper Level Climate Control, Climate, Inside | | |
| | Lower Level Climate Control, Climate, Inside | | |
| | Upper Level Climate Control, Climate, Inside | | |
| | Upper Level Climate Control, Climate, Inside | | |
| | Upper Level Climate Control, Climate, Inside | | |
| | Upper Level Climate Control, Climate, Inside | | |
| | Main Floor Premium, Climate, Inside | | |
| | Main Floor Premium, Climate, Inside | | |
| | Main Floor Premium, Climate, Inside | | |
| | Lockers Climate-cont, Climate, Inside, Alarm | | |
| | Main Floor Premium, Climate, Inside | | |
| | Lower Level Climate Control, Climate, Inside | | |
| | Main Floor Premium, Climate, Inside | | |
| | Upper Level Climate Control, Climate, Inside | | |
| | Upper Level Climate Control, Climate, Inside | | |
| | Upper Level Climate Control, Climate, Inside | | |
| | Upper Level Climate Control, Climate, Inside | | |
| | Lower Level Climate Control, Climate, Inside | | |
| | Upper Level Climate Control, Climate, Inside | | |
| | Upper Level Climate Control, Climate, Inside | | |
| | Upper Level Climate Control, Climate, Inside | | |
| | Upper Level Climate Control, Climate, Inside | | |
| | Upper Level Climate Control, Climate, Inside | | |
| | Upper Level Climate Control, Climate, Inside | | |
| | Upper Level Climate Control, Climate, Inside | | |
| | Upper Level Climate Control, Climate, Inside | | |
| | Main Floor Premium, Climate, Inside | | |
| | Lower Level Climate Control, Climate, Inside | | |
| | Upper Level Climate Control, Climate, Inside | | |
| | Upper Level Climate Control, Climate, Inside | | |
| | Upper Level Climate Control, Climate, Inside | | |
| | Upper Level Climate Control, Climate, Inside | | |
| | Lower Level Climate Control, Climate, Inside | | |
| | Lower Level Climate Control, Climate, Inside | | |
| | Upper Level Climate Control, Climate, Inside | | |
| | Upper Level Climate Control, Climate, Inside | | |
| | Lower Level Climate Control, Climate, Inside | | |
| | Upper Level Climate Control, Climate, Inside | | |
| | Upper Level Climate Control, Climate, Inside | | |
| | Upper Level Climate Control, Climate, Inside | | |
| | Upper Level Climate Control, Climate, Inside | | |
| | Lower Level Climate Control, Climate, Inside | | |
| | Upper Level Climate Control, Climate, Inside | | |
| | Upper Level Climate Control, Climate, Inside | | |
| | Upper Level Climate Control, Climate, Inside | | |
| | Lower Level Climate Control, Climate, Inside | | |
| | Upper Level Climate Control, Climate, Inside | | |
| | Upper Level Climate Control, Climate, Inside | | |
| | Upper Level Climate Control, Climate, Inside | | |
| | Upper Level Climate Control, Climate, Inside | | |
| | Upper Level Climate Control, Climate, Inside | | |
| | Main Floor Premium, Climate, Inside | | |
| | Upper Level Climate Control, Climate, Inside | | |
| | Upper Level Climate Control, Climate, Inside | | |
| | Upper Level Climate Control, Climate, Inside | | |
| | Upper Level Climate Control, Climate, Inside | | |
| | Upper Level Climate Control, Climate, Inside | | |
| | Upper Level Climate Control, Climate, Inside | | |
| | Upper Level Climate Control, Climate, Inside | | |
| | Upper Level Climate Control, Climate, Inside | | |
| | Upper Level Climate Control, Climate, Inside | | |
| | Lower Level Climate Control, Climate, Inside | | |
| | Upper Level Climate Control, Climate, Inside | | |
| | Upper Level Climate Control, Climate, Inside | | |
| | Upper Level Climate Control, Climate, Inside | | |
| | Upper Level Climate Control, Climate, Inside | | |
| | Upper Level Climate Control, Climate, Inside | | |
| | Upper Level Climate Control, Climate, Inside | | |
| | Upper Level Climate Control, Climate, Inside | | |
| | Upper Level Climate Control, Climate, Inside | | |
| | Upper Level Climate Control, Climate, Inside | | |
| | Upper Level Climate Control, Climate, Inside | | |
| | Upper Level Climate Control, Climate, Inside | | |
| | Lower Level Climate Control, Climate, Inside | | |
| | Upper Level Climate Control, Climate, Inside | | |
| | Lower Level Climate Control, Climate, Inside | | |
| | Upper Level Climate Control, Climate, Inside | | |
| | Upper Level Climate Control, Climate, Inside | | |
| | Lower Level Climate Control, Climate, Inside | | |
| | Upper Level Climate Control, Climate, Inside | | |
| | Upper Level Climate Control, Climate, Inside | | |
| | Lower Level Climate Control, Climate, Inside | | |
| | Upper Level Climate Control, Climate, Inside | | |
| | Upper Level Climate Control, Climate, Inside | | |
| | Upper Level Climate Control, Climate, Inside | | |
| | Upper Level Climate Control, Climate, Inside | | |
| | Upper Level Climate Control, Climate, Inside | | |
| | Upper Level Climate Control, Climate, Inside | | |
| | Upper Level Climate Control, Climate, Inside | | |
| | Upper Level Climate Control, Climate, Inside | | |
| | Upper Level Climate Control, Climate, Inside | | |
| | Upper Level Climate Control, Climate, Inside | | |
| | Upper Level Climate Control, Climate, Inside | | |
| | Upper Level Climate Control, Climate, Inside | | |
| | Upper Level Climate Control, Climate, Inside | | |
| | Upper Level Climate Control, Climate, Inside | | |
| | Upper Level Climate Control, Climate, Inside | | |
| | Upper Level Climate Control, Climate, Inside | | |
| | Main Floor Premium, Climate, Inside | | |
| | Upper Level Climate Control, Climate, Inside | | |
| | Upper Level Climate Control, Climate, Inside | | |
| | Upper Level Climate Control, Climate, Inside | | |
| | Upper Level Climate Control, Climate, Inside | | |
| | Upper Level Climate Control, Climate, Inside | | |
| | Upper Level Climate Control, Climate, Inside | | |
| | Lower Level Climate Control, Climate, Inside | | |
| | Upper Level Climate Control, Climate, Inside | | |
| | Upper Level Climate Control, Climate, Inside | | |
| | Upper Level Climate Control, Climate, Inside | | |
| | Upper Level Climate Control, Climate, Inside | | |
| | Upper Level Climate Control, Climate, Inside | | |
| | Upper Level Climate Control, Climate, Inside | | |
| | Upper Level Climate Control, Climate, Inside | | |
| | Upper Level Climate Control, Climate, Inside | | |
| | Upper Level Climate Control, Climate, Inside | | |
| | Upper Level Climate Control, Climate, Inside | | |
| | Upper Level Climate Control, Climate, Inside | | |
| | Lower Level Climate Control, Climate, Inside | | |
| | Upper Level Climate Control, Climate, Inside | | |
| | Upper Level Climate Control, Climate, Inside | | |
| | Upper Level Climate Control, Climate, Inside | | |
| | Lower Level Climate Control, Climate, Inside | | |
| | Lower Level Climate Control, Climate, Inside | | |
| | Lower Level Climate Control, Climate, Inside | | |
| | Upper Level Climate Control, Climate, Inside | | |
| | Upper Level Climate Control, Climate, Inside | | |
| | Upper Level Climate Control, Climate, Inside | | |
| | Upper Level Climate Control, Climate, Inside | | |
| | Upper Level Climate Control, Climate, Inside | | |
| | Upper Level Climate Control, Climate, Inside | | |
| | Lower Level Climate Control, Climate, Inside | | |
| | Lower Level Climate Control, Climate, Inside | | |
| | Upper Level Climate Control, Climate, Inside | | |
| | Upper Level Climate Control, Climate, Inside | | |
| | Upper Level Climate Control, Climate, Inside | | |
| | Upper Level Climate Control, Climate, Inside | | |
| | Upper Level Climate Control, Climate, Inside | | |
| | Upper Level Climate Control, Climate, Inside | | |
| | Upper Level Climate Control, Climate, Inside | | |
| | Upper Level Climate Control, Climate, Inside | | |
| | Upper Level Climate Control, Climate, Inside | | |
| | Lower Level Climate Control, Climate, Inside | | |
| | Upper Level Climate Control, Climate, Inside | | |
| | Upper Level Climate Control, Climate, Inside | | |
| | Upper Level Climate Control, Climate, Inside | | |
| | Upper Level Climate Control, Climate, Inside | | |
| | Upper Level Climate Control, Climate, Inside | | |
| | Lower Level Climate Control, Climate, Inside | | |
| | Lower Level Climate Control, Climate, Inside | | |
| | Upper Level Climate Control, Climate, Inside | | |
| | Upper Level Climate Control, Climate, Inside | | |
| | Upper Level Climate Control, Climate, Inside | | |
| | Upper Level Climate Control, Climate, Inside | | |
| | Lower Level Climate Control, Climate, Inside | | |
| | Upper Level Climate Control, Climate, Inside | | |
| | Upper Level Climate Control, Climate, Inside | | |
| | Lower Level Climate Control, Climate, Inside | | |
| | Lower Level Climate Control, Climate, Inside | | |
| | Upper Level Climate Control, Climate, Inside | | |
| | Upper Level Climate Control, Climate, Inside | | |
| | Upper Level Climate Control, Climate, Inside | | |
| | Upper Level Climate Control, Climate, Inside | | |
| | Lower Level Climate Control, Climate, Inside | | |
| | Upper Level Climate Control, Climate, Inside | | |
Storage Units in Denver, CO
What are you looking for in a self-storage unit in Denver, CO? How about convenience, affordability, and security in a storage center?
Stash Self Storage Near Me
- Grant offers everything you need to ensure you have a stress and hassle-free storage experience. When you store with us, you'll appreciate convenient indoor storage units, month-to-month rentals, 24-hour video surveillance, and online bill pay. 
Reserve a unit and make your monthly payments online! 
Check Out What Our Customers Are Saying
"
"
Jasmine Novack
on 02/20/2021
The person who worked the front desk was so welcoming and nice. She made the mundane task of getting a storage unit fun. Everything went smoothly, and I would rent a storage unit here again if I needed to. Excellent service.
"
"
Jenna Christopher
on 01/20/2021
Great customer service and prices! Staff is very friendly and great resource for movers, advice about the area, etc. Facility is clean and well organized! Thanks for everything!
"
"
Moving can be quite a process, and can take a lot out of you when you choose to do it yourself. Alison was super helpful in getting me set up with a unit that would be both affordable and meet my needs. She sensed i was a bit out of it after several long days of packing and lifting, and took the time to explain everything, even when i asked the same question several times, bless her heart. Getting set up with additional time on my unit was a breeze! I've enjoyed the clean units and meeting and chatting with some of the more outgoing folks rentig units, as well as taking a minute to say hi to the staff, who are warm, friendly, and accomodating. I continually get a friendly "neighborhood" vibe every time i come by, and despite how things have been these days, on top of running a sizeable facility and the unexpected headaches that surely come with such an endeavor, Alison will still gladly help with a smile, professionalism, and some fun stories!
Conveniently Located on North Grant Street
Stash Self Storage Near Me
- Grant is conveniently located on North Grant Street, close to Denver Health, History Colorado Center, Molly Brown House Museum, Denver Art Museum, Cheesman Park, and Denver Botanic Gardens. We're happy to serve our community and surrounding areas such as Capitol Hill, Central, Alamo Placita, and City Park West.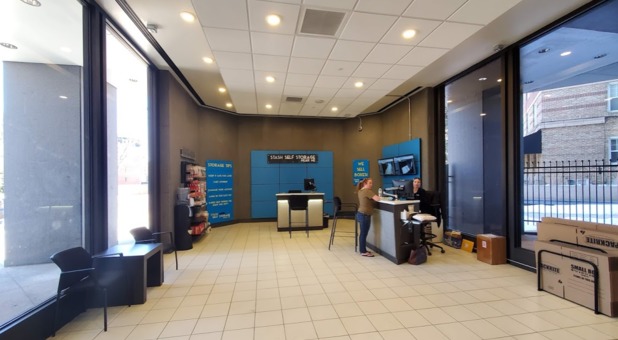 Head northwest toward Cleveland Pl

Turn right onto Cleveland Pl

Turn right onto N Broadway

Turn left onto E 14th Ave

Use the right 2 lanes to turn right onto Grant St

Turn left onto E 9th Ave

Turn left

Stash Self Storage Near Me

- Grant will be on the left
From Capitol Hill, Denver, CO:
Head west on E 11th Ave toward Pennsylvania St

Turn left onto Grant St

Turn left onto E 9th Ave

Turn left

Stash Self Storage Near Me

- Grant will be on the left 
From Central, Denver, CO:
Head east on E 6th Ave toward Speer Blvd

Turn left onto Logan St

Turn left onto E 9th Ave

Turn right

Stash Self Storage Near Me

- Grant will be on the left 
From City Park West, Denver, CO:
Head east toward N High St

Turn right onto N High St

Turn right onto E 13th Ave

Turn left onto Grant St

Turn left onto E 9th Ave

Turn left

Stash Self Storage Near Me

- Grant will be on the left 
Head northwest toward Cleveland Pl

Turn right onto Cleveland Pl

Turn right onto N Broadway

Turn left onto E 14th Ave

Use the right 2 lanes to turn right onto Grant St

Turn left onto E 9th Ave

Turn left

Stash Self Storage Near Me

- Grant will be on the left

From Capitol Hill, Denver, CO:

Head west on E 11th Ave toward Pennsylvania St

Turn left onto Grant St

Turn left onto E 9th Ave

Turn left

Stash Self Storage Near Me

- Grant will be on the left 

From Central, Denver, CO:

Head east on E 6th Ave toward Speer Blvd

Turn left onto Logan St

Turn left onto E 9th Ave

Turn right

Stash Self Storage Near Me

- Grant will be on the left 

From City Park West, Denver, CO:

Head east toward N High St

Turn right onto N High St

Turn right onto E 13th Ave

Turn left onto Grant St

Turn left onto E 9th Ave

Turn left

Stash Self Storage Near Me

- Grant will be on the left