Office Hours
Sunday

9:00 AM

-

5:00 PM

Monday - Friday

9:30 AM

-

6:00 PM

Saturday

9:00 AM

-

5:00 PM
Access Hours
Sunday

9:00 AM

-

5:00 PM

Monday - Friday

9:30 AM

-

6:00 PM

Saturday

9:00 AM

-

5:00 PM
| Size | Unit Details | Price | |
| --- | --- | --- | --- |
| | Lockers Climate-cont, Climate, Inside | | |
| | Lockers Climate-cont, Climate, Inside | | |
| | 5th Floor Climate Control, Climate, Inside | | |
| | Lower Basement Climate Control, Climate, Inside | | |
| | 6th Floor Climate Control, Climate, Inside | | |
| | 6th Floor Climate Control, Climate, Inside | | |
| | 7th Floor Climate Control, Climate, Inside | | |
| | 5th Floor Climate Control, Climate, Inside | | |
| | 2nd Floor Climate Control, Climate, Inside | | |
| | 6th Floor Climate Control, Climate, Inside | | |
Storage Units in Denver, CO
What are you looking for in a self-storage unit in Denver, CO? How about convenience, affordability, and security in a storage center?
Stash Self Storage Near Me
- Grant offers everything you need to ensure you have a stress and hassle-free storage experience. When you store with us, you'll appreciate convenient drive-up storage units, month-to-month rentals, 24-hour video surveillance, and online bill pay. 
Reserve a unit and make your monthly payments online! 
Check Out What Our Customers Are Saying
"
"
Betsy Shuttleworth
on 05/27/2020
I was supposed to move out of my apartment and put my stuff in Stash Self Storage this weekend, but due to a family emergency I will not be able to. Alison was so kind and helped me get organized with movers and everything. I am looking forward to working with Stash in the future!
"
"
Best storage experience I have had in Denver and would highly recommend them to anyone. Well maintained climate controlled storage units. Always felt safe when accessing. Facility is very well lit, well secured area, and the staff were always super helpful!
"
"
The people at Stash Storage are very helpful. I recently had to coordinate a move between a truck company, movers, and storage. Each time something changed it was a series of calls. The folks at Stash were helpful, friendly, and flexible. They helped the move go much easier. The units are secure and clean. Go ahead and use Stash Storage.
Conveniently Located on North Grant Street
Stash Self Storage Near Me
- Grant is conveniently located on North Grant Street, close to Denver Health, History Colorado Center, Molly Brown House Museum, Denver Art Museum, Cheesman Park, and Denver Botanic Gardens. We're happy to serve our community and surrounding areas such as Capitol Hill, Central, Alamo Placita, and City Park West.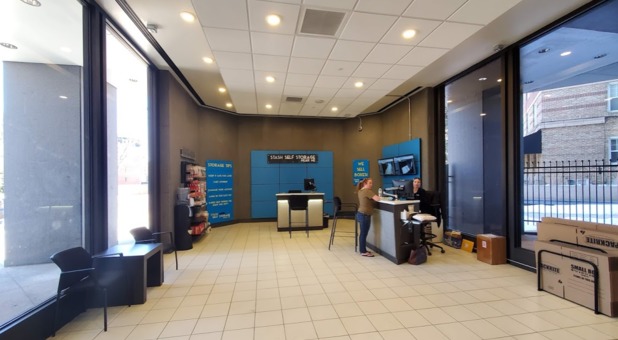 Head northwest toward Cleveland Pl

Turn right onto Cleveland Pl

Turn right onto N Broadway

Turn left onto E 14th Ave

Use the right 2 lanes to turn right onto Grant St

Turn left onto E 9th Ave

Turn left

Stash Self Storage Near Me

- Grant will be on the left
From Capitol Hill, Denver, CO:
Head west on E 11th Ave toward Pennsylvania St

Turn left onto Grant St

Turn left onto E 9th Ave

Turn left

Stash Self Storage Near Me

- Grant will be on the left 
From Central, Denver, CO:
Head east on E 6th Ave toward Speer Blvd

Turn left onto Logan St

Turn left onto E 9th Ave

Turn right

Stash Self Storage Near Me

- Grant will be on the left 
From City Park West, Denver, CO:
Head east toward N High St

Turn right onto N High St

Turn right onto E 13th Ave

Turn left onto Grant St

Turn left onto E 9th Ave

Turn left

Stash Self Storage Near Me

- Grant will be on the left 
Head northwest toward Cleveland Pl

Turn right onto Cleveland Pl

Turn right onto N Broadway

Turn left onto E 14th Ave

Use the right 2 lanes to turn right onto Grant St

Turn left onto E 9th Ave

Turn left

Stash Self Storage Near Me

- Grant will be on the left

From Capitol Hill, Denver, CO:

Head west on E 11th Ave toward Pennsylvania St

Turn left onto Grant St

Turn left onto E 9th Ave

Turn left

Stash Self Storage Near Me

- Grant will be on the left 

From Central, Denver, CO:

Head east on E 6th Ave toward Speer Blvd

Turn left onto Logan St

Turn left onto E 9th Ave

Turn right

Stash Self Storage Near Me

- Grant will be on the left 

From City Park West, Denver, CO:

Head east toward N High St

Turn right onto N High St

Turn right onto E 13th Ave

Turn left onto Grant St

Turn left onto E 9th Ave

Turn left

Stash Self Storage Near Me

- Grant will be on the left